Award-Winning Manchester Photographer, James Russell
James Russell is a Manchester-based commercial photographer. His award-winning photography is helping businesses both large and small get their products and services noticed.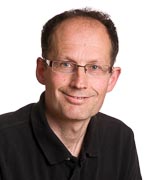 James's work is known for its strong composition and creative design, which reflects his artistic background. Before becoming established as a photographer, he produced a wide variety of work on both canvas and paper. Photography was a natural progression.
"The blend of the artistic and technical really fascinates me. I love the challenge of a difficult assignment and the joy of creating a dynamic image, whether that's of a product, a person, or a place.
I want to create something different for every client. That means I pay the same attention to detail with a simple pack shot as I would for a more complex photograph - the more ordinary the subject, the more it needs a creative approach!"
His work is noted for the use of different settings, unconventional angles, unusual lighting – anything that will help James create an image that stands out from the crowd. Large corporate shoot or small business portrait session, he is always passionate about getting great results for his clients. For after all, there is so much potential in a photograph – a striking image immediately lifts your brochure, website, press release or social media posting above the competition.
Commercial & Advertising Gold Award BIPP NW Professional Photography Awards
Awards
Advertising Photographer of the Year, Professional Photography Awards
Commercial & Advertising Gold Award, BIPP NW Professional Photography Awards
Commercial & Advertising Silver Award, BIPP NW Professional Photography Awards
Commercial & Advertising Bronze Award, BIPP NW Professional Photography Awards
Environmental Portraiture Silver Award, BIPP NW Professional Photography Awards
Environmental Portraiture Bronze Award, BIPP NW Professional Photography Awards
Industrial Bronze Award, BIPP NW Professional Photography Awards
Fine Art Bronze Award, BIPP NW Professional Photography Awards
Second Prize BIPP/Towergate Camerasure Fine Art Competition